The Allied Partners Veterinary Emergency Service (APVES) is a group-owned veterinary emergency service operating at the Mid-Atlantic Animal Specialty Hospital (MASH), taking pride in providing you and your pet with state-of-the-art emergency, critical, and intensive care medicine and surgery.
Emergencies and the unexpected happens. Stay calm, and report the specific problem when you call. You'll receive immediate assistance and instructions for next steps.
If there's a cause for concern, then there's a reason to come in. We can answer any questions or concerns that you may have about the condition of your pet, and relieve doubt for peace of mind.
With an in-house lab, fully equipped with high-quality diagnostic testing and imaging machines, APVES is able to provide a rapid turnaround of results for blood tests, digital radiology, and ultrasound results. Critical patients are closely monitored with continuous EKGs, non-invasive blood pressure monitoring, pulse oximetry for efficiency of respiration (tissue oxygen saturation) measurement, and other advanced procedures.
Allied Partners Veterinary Emergency Service is fully equipped to perform:
Intravenous (IV) Medications
Blood & Plasma Transfusion
In-House Pharmacy
Oxygen Therapy & Oxygen Cages
Emergency Surgery
Allied Partners Veterinary Emergency Service Hours:
Monday: 6PM - 8AM
Tuesday: 6PM - 8AM
Wednesday: 6PM - 8AM
Thursday: 6PM - 8AM
Friday: 6PM -8AM
Saturday and Sunday: Closed - Read where to take your pet >>
Don't hesitate to call if you think your pet is in distress.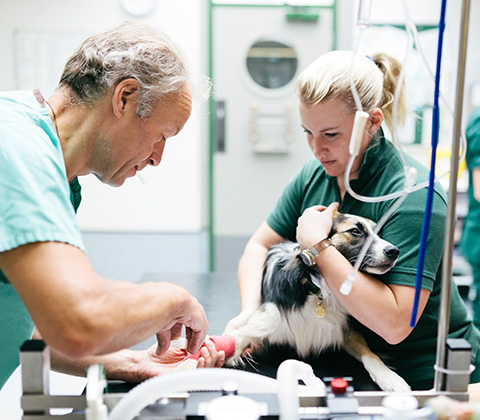 It may not look like an emergency right away, but your pet is counting on you to do the right thing quickly. Here are a few things to look for and be aware of:
Lacerations
Bite Wounds
Poison Ingestion / Poison Control (ASPCA)
Breathing Difficulties
Birthing Difficulties/Prolonged Labor
Vomiting or Diarrhea
Blunt Trauma
Snake Bites
Seizures
Foreign Object Ingestion
Where should you take your pet in case of an emergency?
Your veterinarian's first choice for emergency services, of course. Give us a call.410-535-9722
Our emergency practice operates under a standard fee that covers the cost of the doctor's initial examination and consultation - one of the most affordable in the area. If you have any questions regarding our emergency fees or services, don't hesitate to give us a call.
Someone from our team is available to help. We are open after hours for emergencies, Monday to Friday from 6:00 pm to 8:00 am; closed on Saturday and Sunday.