Rehabilitation Team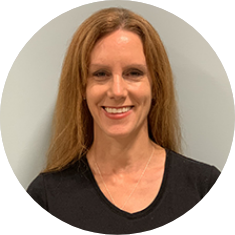 Chris Allyn Fritsch M.Ed, ATC/R, PT, CCRP
After graduating from West Virginia University with a degree in Athletic Training and Education, Chris pursued Physical Therapy at Howard University in Washington DC and later completed her Masters at Howard University. Chris "retired" from human physical therapy after 25 years and brought that sports medicine experience with emphasis in manual therapy and biomechanics to the animal rehabilitation world.
Her interest in Canine Rehabilitation began in 2000 when her own dog, Cooper, underwent a caudal cruciate repair. The surgeon recommended swimming for rehab but had no other suggestions. It just didn't make sense that human patients receive a very specific focused rehabilitation program after a similar surgery but for a dog the rehab was simply swimming. Chris began utilizing her human physical therapy knowledge and manual skills to address the post-surgical needs in her dog – pain, lack of flexibility, decreased strength, and poor neuromuscular control. The results were impressive, Cooper regained full range of motion, strength, and was back to chasing squirrels in no time.
This experience spurred a desire to learn more about canine rehabilitation so she began coursework through the University of Tennessee certification program in Canine rehabilitation. Her clinical residency was spent here at MASH and she earned her Certified Canine Rehabilitation Practitioner credentials in December 2007. Now she strives to provide complete wellness and rehabilitation care of dogs ( or cats ! ) big and small, athletic and elderly, for their fullest dog life possible.
In her free time, Chris likes to spend time in her West Virginia cabin with family, friends, and 2 rescue dogs. Life is good on the river.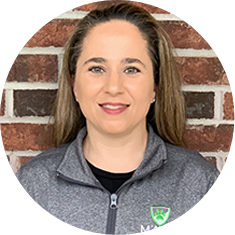 Marla Wilkerson PT, CHT, CCRT
Marla received her Bachelor of Science in Kinesiology from the University of Maryland, College Park in 1996, and then a Master of Science in Health Sciences in Physical Therapy from George Washington University in 2002. She has been working as a licensed Physical Therapist in outpatient orthopedics ever since and earned her specialization in the upper extremity as a Certified Hand Therapist in 2011.
Marla has always loved and been drawn to dogs but it wasn't until her second dog, Bella, began having a hard time walking as she was getting older that she began to research what could be done to help her. She wanted to do whatever possible to help Bella to live her best life for each and every day that she had left. This enticed Marla to pursue a career in Canine Rehabilitation.
Marla began to realize through discussions with her human patients that many people are unaware that specialized rehabilitation for their canines even exists. Most people would seek out physical therapy to address their own pain and injury but had no idea the same was available for their dogs. This made her eager to become a part of this ever-evolving field, intertwining physical therapy skills and veterinary medicine to be able to help dogs as much as we help people in the times that they need us the most.
Marla completed the program through the Canine Rehabilitation Institute and is now a Certified Canine Rehabilitation Therapist. She was excited to join the excellent rehab team at MASH in 2019. Marla lives in Riva, MD, and in her free time she likes to seek out good food around Annapolis and spend time with her 3 dogs. She has goals to work towards becoming a registered therapy dog team this year.


Join our newsletter to stay in touch with us.