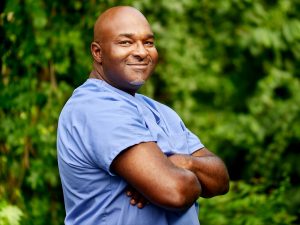 Dr. Bruce Nwadike
Dr. Bruce Nwadike is a board certified veterinary surgeon with a special interest in orthopedics, surgical oncology, general and reconstructive surgery. He moved to the southern Maryland area from North Carolina where he was a faculty surgeon at North Carolina State University College of Veterinary Medicine. He has published clinical and original research articles in peer-reviewed journals and served for 6 years on the editorial review board for the Veterinary Surgery journal.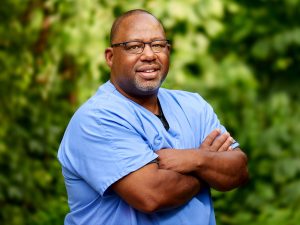 Dr. Rodney Oakley
Dr. Rodney Oakley is a board certified veterinary surgeon with a special interest in orthopedic surgery, sports medicine and emergency surgery. Dr. Oakley completed a small animal surgical residency and a 2–year postdoctoral fellowship in medical neurology and neurosurgery at Michigan State University College of Veterinary Medicine. He relocated to southern Maryland in 2000, joining Dr. Nwadike and forming their referral surgical practice. Dr. Oakley has lectured at national and local scientific meetings and is notably published in veterinary literature.

Join our newsletter to stay in touch with us.
[subscribe2 hide="unsubscribe"]
IMPORTANT COVID 19 MESSAGE
During this COVID-19 pandemic, the health and safety of our clients, patients & staff is our number one priority. Here are some additional precautions we are taking to minimize exposure. We understand that this is a difficult time for everyone, thank you for your cooperation.
FOR CLIENTS SHOWING SIGNS OF ILLNESS THAT MAY BE ASSOCIATED WITH COVID-19
Existing Appointments: We kindly ask that you call to reschedule (410-414-8250).
Medical Emergencies: We kindly ask that you either arrange for a healthy friend or family member to transport your pet to our hospital. If this is not possible, please remain in your vehicle and call our front desk upon arrival (410-414-8250).  A staff member will come retrieve your pet and collect all necessary information.
FOR HEALTHY CLIENTS WITH AN EXISTING APPOINTMENT OR MEDICAL EMERGENCY
Only one client per pet will be permitted inside our lobby and exam rooms at any given time. Please leave children at home.
Depending on the volume of clients in our lobby, you may be asked to return to your vehicle while your pet is waiting to be seen.
A staff member will direct you to either the waiting room or an exam room, please remain there. A staff member will be with you shortly.
Please practice "Social Distancing". This includes appropriate hand washing, no hand shakes, and maintaining a minimum distance of 6 feet from others.
Clients will not be permitted in any treatment areas, including Rehab.
We will be limiting the amount of traffic at our front desk. You may be asked to schedule future appointments and make additional payments over the phone.
We will continue to allow clients to remain in exam rooms during end-of-life situations.
If you do not wish to enter our building or are unsure what to do, please call for instructions from a staff member (410-414-8250).
FOR HOSPITALIZED PETS
No personal items can be left with hospitalized pets. This includes leashes, collars/harnesses, toys, blankets, crates etc.
Our visiting hours have been suspended. You will continue to receive daily updates from our doctors and staff, and may call at any time for an update.
HOURS OF OPERATION
MASH: 8am-6pm Monday – Friday
EMERGENCY:
6pm-8am Monday – Friday
24 hrs Saturday & Sunday
BEFORE YOUR APPOINTMENT, PLEASE PRINT AND FILL OUR  CLIENT REGISTRATION FORM!
Copyright © 2020 All Rights Reserved. Maintained by
Launchmark